Choosing the right dumbbells for your home workout can be a bit overwhelming, especially with so many options available on the market. From cast iron dumbbells to sand dumbbells, neoprene dumbbells and more. 
It's important to understand the pros and cons of each type in order to choose the best option for your fitness needs. In this blog, we'll take a closer look at the different types of dumbbells available and help you choose the best one for your home workout.
--------------------How to choose?--------------------
First, you need to have a rough understanding of different types of dumbbells that currently exist on the market.
Cast Iron Dumbbells:
Cast iron dumbbells are a traditional type of dumbbells and have been used for many years.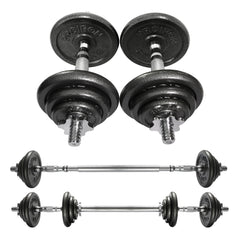 They are durable, long-lasting and come in a variety of weights. However, they can be heavy, making them difficult to handle for those who are just starting out or have limited strength.
But due to its high denstity, it can have a smaller size while having the same weight as other kinds of dumbbell.
Smaller size means less obstruction and collision between our bodies and the dumbbell.
Also, there is a new type of cast iron dumbbells that is better than ordinary ones.
Our hex dumbbell. It is in fact cast iron dumbbell but has an eco-friendly coating on both sides. The handle remains iron-style.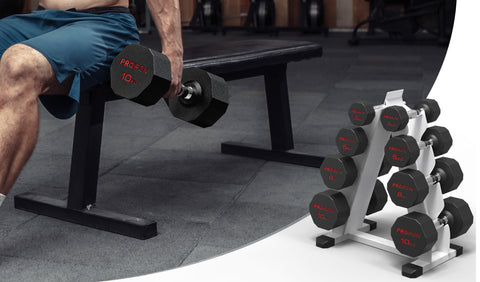 It shares all advantages with cast iron dumbbell, but has a better protection to the floor.
Sand Dumbbells:
Sand dumbbell is filled with sand instead of metal.
It can be soft but not that much. So it's more friendly to our floor, but if you are not using it carefully, you may still damage the floor.
One disadvantage of this dumbbell is that they can be messy and leave sand residue on your floor or clothing. Additionally, sand dumbbells are often heavier and bulkier than metal weights, which can make them more difficult to transport and store.
Neoprene Dumbbells:
Neoprene dumbbells are a type of weight training equipment that is covered in neoprene, a harmless synthetic rubber material.
This covering provides a comfortable grip, making it easier to hold the weights for longer periods of time without experiencing discomfort or blisters.
In addition, neoprene also has a non-slip surface, which helps to prevent the weights from slipping out of the hands during use.
Overall, neoprene dumbbells are a popular choice for people who want a comfortable and secure grip while working out.
So how exactally should we choose dumbbells for home training?
When choosing a dumbbell for your home workout, it's important to consider your personal fitness goals and the type of exercises you plan to do.
If you're just starting out and want a set of dumbbells that are easy to handle and come in a variety of weights, Neoprene dumbbells or sand dumbbells may be a good option.
If you're looking for a durable set of dumbbells that will last for many years, Cast iron dumbbells or hex dumbbell are a good choice.
And, if you want a space-saving option that is versatile and easy to adjust, adjustable dumbbells may be the best choice for you.
In conclusion, the type of dumbbell you choose for your home workout will depend on your personal fitness goals, the type of exercises you plan to do, and your budget.
Consider the pros and cons of each type of dumbbell, and choose the one that best suits your needs. With the right set of dumbbells, you can enjoy a convenient and effective home workout and achieve your fitness goals in no time!
-------------------------------End-------------------------------
Leave a Comment!
Feel free to leave a comment here and share your experience about how to choose your own dumbbells!
We will give away 30% discount code to first three comments!
Previous Blog:
9/12/2023: Do you know what's the difference between a curl bar and a stright bar?
7/11/2022: Since you are here, how about read this Gift Guidance?
17/10/2022: In Autumn, Try This Exercise to Gain More Hormones!
14/9/2022: How to Choose a Sports Bottle, Especially a Protein Shaker Bottle? 
7/9/2022: A Must-face Problem if You Want to Build a Gym Area inside Your Home.